Main content starts here, tab to start navigating
Menus
All produce comes from local farms to ensure better taste and health.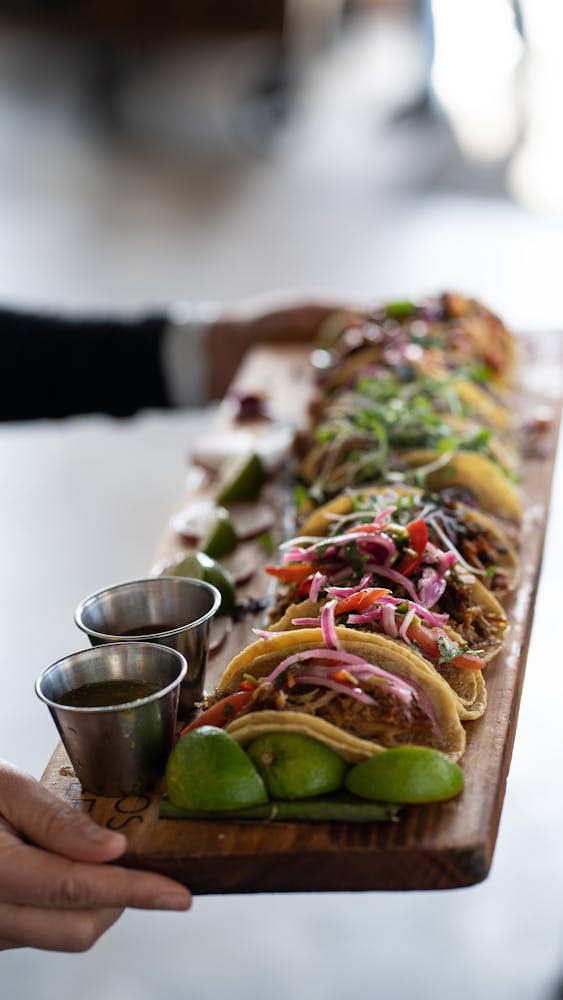 Tacos
Rib Eye

Grilled Grass-fed Rib Eye, guacamole, grilled onions, cilantro, salsa de molcajete, handmade corn tortilla

$6.25

Pork Belly

Pork Belly, curtido de pepino, micro-cilantro, handmade corn tortilla, salsa mango habanero

$5.95

Pollo al Mole Poblano

Free range Mary's chicken, mole poblano, rice, handmade corn tortilla, cilantro, red onion. Contains nuts

$5.95

Short Rib

Short ribs, marinated in a barbacoa adobo, wrapped in a banana leaf, cooked in the oven for 5 hours. handmade corn tortilla, red onions, cilantro, salsa verde

$5.95

fish

Fresh Fish, pico de gallo, avocado salsa, handmade corn tortilla

$6.25

shellfish, fish

Cauliflower con Elote

Sautéed Cauliflower with elote in chipotle salsa. Handmade corn tortilla, cilantro

$5.50

vegan
Tabla De Tacos
We serve the tacos on a flat wooden plate
Tabla de 5

One taco of each meat ONLY

$29

Tabla de 10

Two tacos of each meat ONLY

$56
Quesabirria
Quesabirrias

Fried handmade corn tortilla prepared on the grill with melted mozzarella cheese, onions & cilantro. Consommé de birria, salsa de árbol Chicken/Beef

$7.50

Tabla de 5 Quesabirrias

Choose 5 of your favorites Chicken/Beef

$35

Tabla de 10

Choose 10 of your favorites Chicken/Beef

$69
Other Than Tacos
Ensalada Verde

Romaine lettuce, cucumber, tomato, avocado, red onion, pumpkin seeds, pecans, raisins, beans, queso fresco & mango vinaigrette

$14

vegetarian, vegan

Elote

2 Mexican street corns cut in half, with mayonnaise, sour cream, queso cotija & limes

$12

dairy free, vegetarian, vegan

Fruta Picada

Jicama, cucumber, mango with lime & salted chile piquin

$12

vegan

Flautas de papa

3 Crunchy corn tortillas with Potatoes, over guacamole, topped with cabbage, radish, salsa roja, queso fresco and sour cream

$15

vegetarian

Flautas de Pollo

3 pan fried flautas with shredded chicken, in a bed of guacamole, cabbage, red onions, queso fresco & salsa roja

$16

Ceviche

Shrimp or fish ceviche cured in lime juice, organic red onions, organic english cucumber, red fresno pepper, organic avocado & blended chile serrano. Served with 3 corn tostadas

$16

fish

Refried Beans & Queso Fresco

$5

Whole Beans

$5

Guacamole & Chips

$12
Postres
Churros

Traditional mexican churro dusted with organic sugar & cinnamon

$9

Platano Frito

Fried plantain with sweetened condensed milk

$8

Flan Casero

House Made vanilla flan with caramel

$10

Viva Mexico

Traditional mexican churro dusted with organic sugar & powdered cinnamon. Served with a scoop of ice cream

$12
Brunch every Saturday and Sunday from 10am to 3pm
Brunch Menu
California Avocado Toast

Two slices of toasted Acme Bread with two poached organic eggs, fresh avocado, pico de gallo, watermelon radishes, queso fresco, sesame seeds, micro greens with a side arugula salad

$16

Omelette

Create your own omelet with 3 organic eggs Choose veggies: spinach, tomatoes, onions, jalapeno pepper, red bell, cactus & cheese. Add chorizo, chicken, bacon, or canadian bacon for an additional $4

$13

Cinnamon Currant French Toast

Two slices of cinnamon Acme Bread with maple syrup & seasonal fruit

$12

Buttermilk Pancakes

Two fluffy buttermilk pancakes, maple syrup & seasonal fruit. Add two organic scrambled or sunny side up eggs for an additional $5

$10

Mexican Scramble

Two organic scrambled eggs, onions, tomatoes, cilantro, serrano peppers, mozzarella cheese, black beans & sour cream

$14

Benedictos Yucatecos

Two poached organic eggs over tamal with pork, chipotle lemon butter sauce. Served with black beans, guacamole, queso fresco, sesame seeds, seasonal fruit.

$15

Huevos Rancheros

Organic sunny side up eggs, salsa ranchera, thick corn tortilla, red onions, radishes, avocado, black beans & queso fresco.

$14

Chilaquiles

Two organic sunny side up eggs, crunchy corn tortilla chips, salsa, queso fresco, avocado, red onions, watermelon radish, sour crème, black beans & queso fresco

$14

Chorizo con huevo

House made chorizo, two organic scrambled eggs, tomatoes, onions, cilantro, mozzarella cheese, refried beans & queso fresco.

$15

Machaca con huevo

Shredded beef, two organic scramble eggs, tomatoes, onions, cilantro, black beans & queso fresco

$15
From our rich tradition of local brewers and the old favorite ones - 100% Local Bay Area/NorCal breweries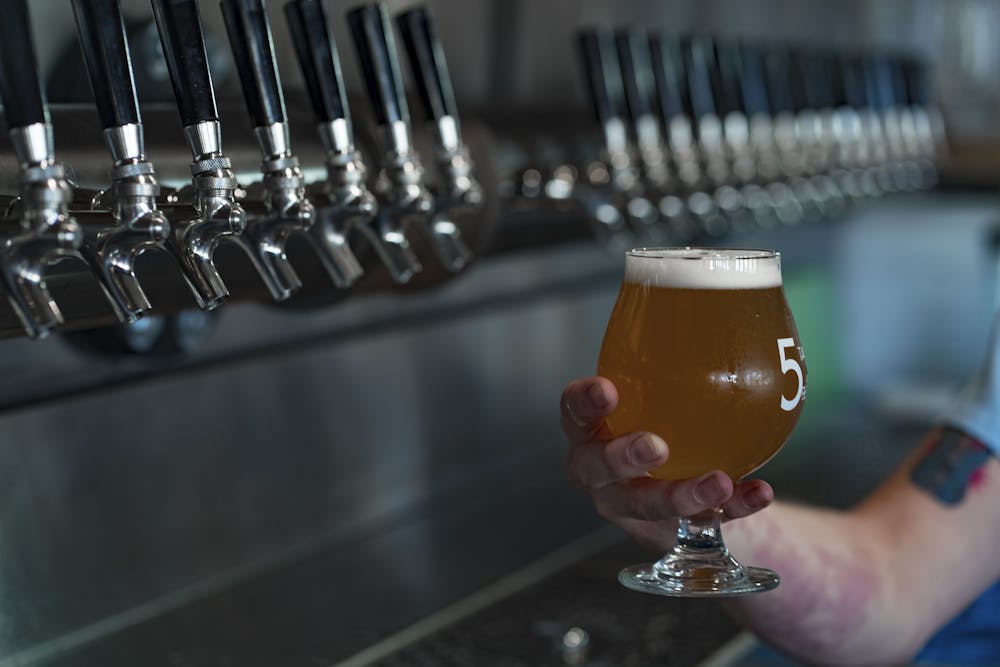 Lagers & Pilsners
Diablo Lager

Mexican Lager, Devil's Canyon, San Carlos, 4.8% A crisp, pale lager brewed with a touch of flaked maize.

Mexicanita

Mexican Lager, Del Cielo, Martinez, 5.0%. House Mexican Lager. This traditional Mexican style beer celebrates Hispanic heritage with its light body and crisp finish. We used Saaz hops for a soft bitterness that brings an aroma of herbs and spice

Chismosa

Mexican Amber Lager, Old Caz, Santa Rosa, 5.3% The year is 2012, and we had just finished working 2 weeks in the sweltering Coachella Valley. Upon finishing, we sat down, ordered a Negra Modelo, and became so satiated by the beverage that we swore then and there to one day brew a beer that could remind us of that glorious moment. Chismosa is a malt focused, clean, and crushable Mexican Amber Lager, and it's name comes from the Spanish word Chisme, or, to gossip. Style: Mexican Amber Lager Specs: 5.8% ABV; 23 IBUs Hops: Cascade, Hallertau Grain: 2-row, Flaked corn

Snapshot

American Lager, Morgan Territory, Tracy, 4.9% A Malt Driven Beer: An American original, American Lagers were first brewed following prohibition and World War 2. These lagers were popular because of the light favors achieved by supplementing traditional barley with rice and corn. The resulting beers became very popular for their crisp, refreshing qualities and lower alcohol. Our interpretation follows that intent but utilizes a modern hop, Callista, to bring a floral/citrus quality to the beer. It's light-bodied with elevated carbonation.

Temescal Pilsner

German Pilsner, Temescal, Oakland, 5.1% "Temescal Pils" is the result of two years of Pilsner experimentation: a 5.0% Pilsner that's soft, aromatic, flavorful, and doesn't adhere to traditional styles. Hop forward but not out of balance in any one way. We haven't previously committed to always offering any one beer, but we love this recipe so much and want to make it more widely available. A crisp and refreshing Pilsner that simultaneously pleases both the "beer-flavored beer" seeking consumer and the pedantic beer connoisseur (2018 GABF competition finalist).

Just A Smidgen

West Coast (Hoppy) Pilsner. Original Pattern. Oakland 5.0% Introducing our newest Hoppy Lager, Just A Smidgen! An American hoppy lager teaming with notes of grapefruit, lemon zest, berry, and followed by a balanced hoppy finish. Mosaic, Amarillo and Citra hops.
ALES
The Penske Files

West Coast Pale Ale, Faction, Alameda. 5.8% Pale ale dry hopped with Mosaic & Ekuanot. Faction Brewstaff favorite!

Stoked!

Hazy Pale Ale, Henhouse, Petaluma, 5.9% Stoked Pale Ale is our rotating hop pale ale, each batch is made with a new blend of one or two hops, allowing us to experiment with new hops and processes. Each batch has the same malt and yeast profile, letting the subtle differences between hops shine through. Citra is fronting like lychee lychee, passion passion, dank dank, plum! Always a house favorite!

Not Velvet, But Cashmere

Hazy IPA, Original Pattern, Oakland, 6.8% It doesn't get much smoother, more luxurious, than this buttery IPA. Unlike most of our hazys, we utilize a cool whirlpool for this brew to focus the juiciness as much as possible while at the same time reducing bitterness. Brewed with Cashmere, Citra, and Strata hops, snuggle up for notes of lime zest, fresh cut melon, and a surprisingly light body.

Citra Dreams

Hazy IPA, New Glory, Sacramento. 6.8% This Hazy IPA is, simply put, our love letter to Citra hops. We use 100% Citra in various and peculiar ways throughout the brewing process to get as much delicious flavor and complexity as possible. Utilizing a flavorful blend of Thomas Fawcett Pearl, rolled oats, and flaked wheat, we charge this brew during the boil, the whirlpool, fermentation, and secondary dry hop. You'll enjoy layer upon layer of fresh papaya, pineapple juice, rock sugar, and overripe tropical fruit, all backed by a smattering of bright citrus.

Separation Anxiety

West Coast IPA, Berryessa, Winters. 6.8% This bright ultra floral IPA showcases Mosaic hops from Yakima Valley,WA. Simplicity at its finest.

Mai Tai PA

West Coast IPA. Alvarado Street, Monterey, 6.9% Three time GABF medal winner, including gold in 2018! Our drier, decidedly "tropical" IPA that's light on bitterness, but heavy on hop aroma, courtesy of 100% Mosaic hops. One whiff and you get super intense notes of passion fruit, mango, and lychee.

Don Laco

House rotated Hazy IPA. Del Cielo. Martinez. 7.0% Don Laco is a family name here at 5 Tacos and in the Saldana family. We honor his name and memory with this weekly changed beer.

Very Best Bad Things

Hazy Double IIPA, Barebottle, San Francisco, 8.6% Our jet propulsion fermentory is ready for launch, armed with 7 lbs/barrel of hops, and Citra is the main event on our horizon. 3, 2, 1...

Hella Hoppy

West Coast Double IIPA. Berryessa. Winters. 9.0% A huge DANKY-RESINOUS double IPA for those extreme hop heads. With four plus pounds of hops per bbl of beer, the hop aroma and flavor are sticky on both the nose and palate. A simple malt bill, a touch of crystal malt, and brewed using the 'hop bursting' technique; this beer truly is a West Coast style hop bomb.
Dark Beers
Venti Is Large

Coffee Stout, Hop Dogma, Half Moon Bay. 7.2% Stout brewed with Catahoula coffee and vanilla. 2x Great American Beer Festival winner. US Open Champion. CA State Fair Blue Ribbon.

Dark Sarcasm

American Porter, Barrel Brothers, Windsor. 7% "A Dark beer for people who don't like dark beers."Dark Sarcasm is loaded with notes of chocolate, mocha and vanilla. The finish is surprisingly smooth for a full flavored dark beer!

East Bay Nights

Black Lager, Oakland United, Oakland, 5.3% 2022 Great American Beer Festival (GABF) (R) Silver Medal winning beer in the German Dark Lager category. This is our tribute to a classic German Schwarzbier. Don't let the color of this beer fool you, it's light on the palate and full of flavor. Notes of coffee and roast with enough German noble hops to round out the malt profile. 5.3% ABV.
Wheat Ales
Hell Or High Watermelon

Wheat Ale W/ Watermelon. 21st Amendment. San Francisco. 4.9% Like Lady Liberty, we stand for independence and perseverance. In the pursuit of innovative beer, there is no obstacle too great. No journey too long. No fruit too gigantic. This American wheat beer is brewed with real watermelon, for a flavor that's surprisingly crisp, dry and refreshing—it's summer in a can! Hell or High Watermelon Wheat is our summer seasonal beer available from April through September in six pack cans and on draft. We start by brewing a classic American wheat beer, then add fresh melons for a straw-colored, delicious beer with a kiss of watermelon aroma and flavor.
Belgian
Irreverent Wit

Belgian Witbier, Laughing Monk, San Francisco. 5.4% Irreverent Wit is a fresh, enlightening example of a Belgian classic. As soon as you draw in this effervescent and creamy, Belgian-style White Ale, you will be transported to a golden sea of tall, dry wheat moving in the wind. This beer is perfectly balanced with subtle flavors of banana and bread, accented by the black peppercorn on the tip of your tongue and finishing with light notes of spice and a dry, yeast character.

Happy Camper

Saison, Oakland United, Oakland, 6.0% Whether you get a rush out of extreme cliff camping or are an inveterate fan of glamping, you are included under our tent as a "Happy Camper"! Saisons, refreshing and approachable even to non-beer drinkers, are a perfect accompaniment to grilling, toasting, napping, fishing or whatever your favorite pastime is. This pale and refreshing, classic beer style is dry and mildly bitter, highlighting the expressive yeast character that's citrusy, spicy, and not overly phenolic.
Sours
Peach

Sour Ale With Peach, Laughing Monk, San Francisco, 5.0% Peach is an 8-bit sipper that will captivate your taste buds. Additions of peach purée delicately provide the base of this fruited kettle sour, providing a mild acidity that gently rolls over your taste buds in this light, easy-drinking kettle sour. Accompanied by the aromas of summertime and hours spent at the arcade, this kettle sour is perfectly peachy.

Buglet

Kettle Sour with Blackberry and Raspberry, Original Pattern, Oakland, 5.5% We love experimenting with out-of-the-box fruit combinations when it comes to sour ales. We went 50/50 with passionfruit and blackberries to create a super tart, mega-fruity concoction that is dynamic and delicious.
Gluten Free Beers
Salvaje

Gluten Free Lager. Buck Wild, Oakland, 5.0% Mexican Lager. Refreshing and light, slight citrus character and just enough floral bitterness to round things out. California's original 100% Gluten Free Brewery, Buck Wild.

You Had Me At Aloha

Gluten Free Tropical Fruit Kettle Sour, Buck Wild, Oakland 5.3 % A Rainbow of Tropical Flavors including Pineapple, Guava, Mango, Orange and Coconuts. California's original 100% Gluten Free brewery.
Seltzers & Ciders
You've Guava Be Kidding Me

Hard Guava Cider (GF). Far West. Richmond 6.3% Dry cider infused with Brazilian guava.

Cherry Seinfeld

Hard Cherry Cider (GF). Hidden Star. San Leandro. 6.5% This cider was made with tart cherries giving it a slight mouth puckering sweetness.

Pineapple Seltzer

Hard Pineapple Seltzer (GF). Old Caz. Santa Rosa 5.5% Passion Pineapple Hard Seltzer

7 oz $4

12 oz $6.50

Growler Fill 32 oz $13

Fill Plus Growler $23
Hard Kombucha
Paloma Hard Kombucha

Gluten Free Hard Kombucha with Grapefruit and Salt. Hoocha. Petaluma. 7% Paloma Hoocha is the perfect blend of organic grapefruit, lime, and our raw hard kombucha. This California twist on a classic cocktail is cool and refreshing with a clean finish
Beer Flights
House Flight

Try 5 ounces of 5 beers curated by our staff! Tacos House Beer Flights

5 beers 5 oz. each $20

Custom Flights

Choose 5 of any of our 30 draft options. This can include beers, ciders, kombuchas or seltzers on draft.

$25
Slide 1 of 7
Slide 2 of 7
Slide 3 of 7
Slide 4 of 7
Slide 5 of 7
Slide 6 of 7
Slide 7 of 7
Craft Cocktails
Made with fresh fruit, sweetened with organic agave nectar, all natural ingredients, no artificial flavor or dyes
Margarita de la Casa

House DON LITO Tequila Blanco, lime juice, organic agave nectar, rim glass w/ salt

Mezcalrita

House Mezcal, lime juice, agave nectar, orange liqueur, bitters, and orange juice, rim glass w/ salt

Paloma

Choice of El silencio Mezcal or Don Lito Tequila, grapefruit juice, Agave, lime juice, splash of mineral water

Sangria Roja

House red wine, Raspberry syrup, Vodka, Peach liqueur , Lime juice, topped with fresh fruit

Michelada Tradicional

5 Tacos Mexicanita beer and house made michelada mix
Seasonal Cocktails
Our staff and mixologist gather every season to create new recipes that incorporate seasonal fruits, herbs, and vegetables into delicious craft cocktails.
Summer Bee's

Choice of Mezcal or Mexican Whiskey Abasolo, Ginger Honey, Lemon, Orange Bitters

$16

Oaxacan Kiss

Mezcal, Ataulfo Mango Puree, Smoked Chipotle Syrup, Citrus, Maguey Worm Salt

$15

Wava Wava

Choice of Tequila or Mezcal, Guava, Lemongrass, Cucumber, Citrus

$15

Rosita Salvaje

Strawberry Gin, Pineapple, Rose Petal, Citrus, Strawberry Shrub

$15

Albany Heat

Choice of Tequila or Mezcal, Passion Fruit, Cerrano Pepper, Orange Liqueur, Chamoy Rim

$15

Dry out - NON ALCOHOLIC

Seedlip Non Alcoholic Spirit, Watermelon, Raspberry, Lime, Sparkling Water

$8
Blancos / Silver / Cristalino
Clase Azul Blanco

Tequila Ocho

Jose Cuervo Reserva de Familia

Casamigos

Don Julio
Reposados Tequilas
Gran Centenario

Maestro Dobel

Tequila Ocho

Clase Azul Reposado

Casamigos

Don Julio Reposado
Añejos Tequilas
Herradura Legend

Centenario Cristalino

Herradura Ultra

Don Julio Anejo
Extra Añejos
Gran Centenario Leyenda

Don Julio 70
Mezcal
Benesin Blanco

San Juan del Rio

Tres Tiempos Ensamble

Benesin tobala

Vago Madrecuche
Kombuchas
Just Peachy N/A Booch

Tip Top Tonics NA Kombucha Richmond, Ca N/A 16 oz

$8.50

Black Cherry N/A Booch

Tip Top Tonics NA Kombucha Richmond, Ca N/A 16 oz

$8.50
Aguas Frescas Del Día
Ask server for todays flavors $4
Pineapple

Strawberry

Horchata
Coffee & Tea
Organic Coffee Pot

$4

Organic Tea Pot

$4

Cafe De Olla Pot

$4

Cinnamon Tea Pot

$4

Chocolate de abuelita

$5
Soft Drinks
Jarritos Mandarin

$4

Mexican Coke

$4

Diet Coke

$4

Bottle Sprite

$4

Craft Root Beer (Devil's Canyon)

Root Beer fans will love this Craft Root beer made by Devil's Canyon brewing. Not too sweet, not too spicy, DCBC Root Beer is made with local honey and agave nectar from a recipe kept under lock and key. Never any high-fructose corn syrup, never any shortcuts. This root beer is the real deal

$6
Pick Up Only: Find Your Nearest Location
Please note that these options are only for pick up at your convenience. For orders exceeding 20 tacos, kindly inquire at least 2-3 days in advance to ensure availability for your party or celebration.
Tacos
We recommend ordering a minimum of 2 tacos per person for a light meal and 4 tacos per person for full meal. We also recommend two side orders to complement your meal. We will serve it separate for you to create your own tacos
10 Tacos

10 handmade corn tortillas. 20 oz of meat*, 4 oz of cilantro, 4 oz of onions, 8 oz of salsa, 4 oz of radishes, 10 slices of lime. Choose up to 3 different protein/meat (chicken, pork, beef, fish, shrimp, and vegan option)

Serve up to 4 people $53

20 Tacos

20 handmade corn tortillas. 40 oz of meat*, 8 oz of cilantro, 8 oz of onions, 12 oz of salsa, 8 oz of radishes, 20 slices of lime. Choose up to 4 different protein/meat (chicken, pork, beef, fish, shrimp, and vegan option)

Serve up to 8 people $107

50 Tacos

50 handmade corn tortillas. 100 oz of meat*, 16 oz of cilantro, 16 oz of onions, 32 oz of salsa, 16 oz of radishes, 50 slices of lime. Choose up to & different protein/meat (chicken, pork, beef, fish, shrimp, and vegan option)

Serve up to 20 people $267
Quesabirrias
10 Quesabirrias (Chicken or Beef)

10 handmade corn tortillas with mozzarella cheese. Served with 8 oz of consome, 4 oz of radishes, 5 slices of limes, 4 oz of salsa de arbol, 2 oz cilantro and 2 oz onions

Serve up to 3 people $67

20 Quesabirrias (Chicken or Beef)

20 handmade corn tortillas with mozzarella cheese. Served with 32 oz of consome, 16 oz of radishes, 15 slices of limes, 8 oz of salsa de arbol, 4 oz cilantro and 4 oz onions

Serve up to 5 people $135

25 Quesabirrias (Chicken or Beef)

25 handmade corn tortilas with mozzarella cheese. Served with 64 oz of consome, 32 oz of radishes, 25 slices of limes, 24 oz of salsa de arbol, 8 oz cilantro and 8 oz onions

Serve up to 8 people $168
SIDES TO SHARE
Ensalada Verde

Romaine lettuce, cucumber, tomato, avocado, red onion, pumpkin seeds, pecans, raisins, beans, queso fresco & mango vinaigrette

Small - 2 servings $20

Medium - 6 Servings $35

Large - 10 Servings $50

Elote

5 Elotes cut in half, with mayonnaise, sour cream, queso cotija and limes

$25

Whole Beans or Refried Beans

16 oz - 4 servings $14

32 oz - 8 servings $24

Chips and Salsa

Home made chips with salsa - 4 servings

$7

Guacamole

16 oz - 6 servings $24

32 oz - 12 servings $45

Rice

16 oz - 4 servings $14

32 oz - 8 servings $24